Monday, December 10, 2001
Such a busy day! There were so many people to see and things to do. Writing was not a high priority today.
Sunday, December 9, 2001
The poem I posted today, "Miss Maddy Jones, " is something I scribbled on a cocktail napkin while having brunch at a very lovely hotel following the service at a church I visited for the first time this morning. The sanctuary was filled with beautiful flowers and Christmas decorations, and the music was spectacular. A string quartet played "Greensleeves" before the processonal, and glorious pipe organ accompanied a chior of nearly 50 voices.

Amid all the splendor, one tiny woman in a old brown coat and bedroom slippers was untouched by the indifference around her. In her dementia, she was filled with love. No matter how hard people tried to ignore her, she was not silenced or rendered invisible...She was loved,and of that she was absolutely certain.

By the time I made my way to the door and stepped outside, she was nowhere to be found. I hope someone saw what I saw and took her by the hand and made sure she had a good lunch and took her home to her family.

Lest anyone think I am passing judgement on the congregation, that is not my intention. Like everyone, they are products of their upbringing. I think if is fair to say that those people, having grown up in Nebraska, had little experience with people who had more fun on Sunday morning than most people ever had on Saturday night. The woman who is the subject of this poem was as foreign to the church members as creatures newly arrived from mars. They simply could not relate, and were discomforted by her exuberance.

Saturday, December 8, 2001
My mind is busy with adventures of the non-literary type today, but I have posted a poem which I wrote several days ago. It is called "Could They?" - This poem caused some of those near and dear to me to be very concerned. It deals with the theme of the diminishng impact people, and expecially women, feel as they become older. Unlike societies where age is revered, Americans of this time give women attention in direct proportion to their youth and beauty. As a woman looses the bloom of youth, she begins to fade, and she becomes less visible to those around her. If she finds herself alone in middle age, spinsterhood or widowhood become a shroud. She is seldom invited anywhere or included in social plans...she dissapears. It seems appropriate to ask what could people do. They could acknowledge her humanity, couldn't they?
Friday, December 7, 2001
The year is running out of days, but I am gathering ideas and options quicly. In May of this year, when I first became involved with ticket2write, there were 149 members. After aggresive recruitment, the membership now numbers 1181.

Yahoo Clubs is on the verge of converting all the clubs to Yahoo Groups. It is difficult to anticipate how this will affect tickket2write. I suspect we will loose some of the spontaneous feel of online conversation, but the ability of members to post via e-mail without accessing the club page may promote greater participation. I have looked at several Yahoo groups, and I don't see a great deal of activity there. I hope we will inspire something.

Trevor and I discussed the agency - He is sending me the papers to sign. We also discussed the company logo. I sent him some Celtic designs which I would like to use for the Harris, Harris & Donahue logo. He added proposed text for out letterhead. It looks great.



N.B. A weekly log page includes entries in reverse chronological order. I might move my daily log page entries to a weekly page to archive them, or I might just write new entries on this page as the week goes on and then add a new page for each new week (remembering to update my "most recent posting" link on the home page whenever I do, of course).

I might not include an entry for every day - it depends on what occurs to me!
Thursday, December 6, 2001
Brady Boyd asked for a review of his book, "The Black Jester" to forward to his agent as part of a submission package. Pressed for time, I did the best I could. Unfortunately, this "good deed" went bad on me. It is amazing how a simple thank you is not sufficient for some people - they actually have to insult a person to make sure they don't remain in your debt. Oh, well...another lesson learned...one less online "friend" - what a shame.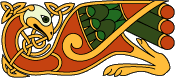 Here is the graphic I chose for the Harris, Harris & Donahue logo. It is a bit of Celtic clip art which I think is visually appealing.